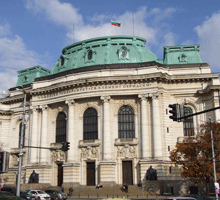 The National Agency Evaluation and Accreditation Agency gave a positive grade of the distance learning environment at Sofia University "St. Kliment Ohridski". The Information and Communication Technology in Education Masters' Program, run by the Faculty of Education, was also accredited. The two-term MA Program of distance learning will commence students' admission in the autumn of 2017.
The accreditation gives an opportunity to all faculties at Sofia University develop, accredit and offer to the prospective MA students the most appealing forms of distance learning. In this way, the high quality form of teaching offered at Alma mater will be available to different groups of potential learners, who, for various reasons – geographical distance, professional, family, health or other reasons, – cannot participate in the regular or extra mural learning process. This is a step forward taken by Sofia University on the road to further opening, democratization and internationalization of the learning process in education.
In the next two academic years the admission of students to various distance programs will be announced. The relevant information of accredited programs will be published both on the pages of the University internet and the website page of the Center for Distance Learning.