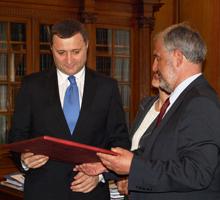 The Prime Minister of Moldova Vladimir Filat is on an official visit of Sofia University.
The Prime Minister of Moldova thanked Prof. Ilchev, Sofia University Rector, for the care taken of the children of Moldovaand asked the colleagues to make them learn more as the contemporary world needs knowledgable people.
The discussion was on collaboration and further development of the University of Taraclia. The structure and investments of the Government of Moldova and the academic knowhow and experience of Sofia University will be the means of transforming the University of Taraclia into a key educational structure in the region. Prof. Ilchev stated the readiness of Sofia University academia to support this transformation.
After the discussion, the Prime Minister started his lecture in Hall 1. Б
99 students of Moldova study at Sofia University. Agreements for collaboration are signed with the Moldova Slavic University, Kishinau, and the Pridnestrovski State University, Tiraspol; a renewal of the agreement with the Moldova State University, Kishinau is undergoing.